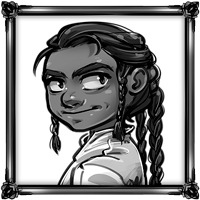 Davrey Eliano
Born the fourth eldest child in an Enoran family of eight, Eliano chose to become a Sworn Maiden at a young age, a semi-religious status of male recognition. Brutish, driven, and stubborn, Eliano is never the type to miss out on training or defending his own from any threat, great or small. He was originally conscripted to the Anocuran army before taking his father's place in an Old Trial, to be judged by Amari beyond the Saltblood Barrier.
While skilled in understanding melee combat, he is hopeless at handling emotional complexities and will often outright avoid them to his own detriment. Despite an arrogant streak, he is earnestly devout and utterly loyal to his friends. Like his father, he enjoys the company of Lamiak and can't stomach the thought of eating poultry. He has lofty goals of becoming a commission officer as his uncle before him and is eager to prove himself in any way.
Eliano's reverence towards religion and elves is occasionally scoffed at by Relmin and questioned by Yerli. While he believes in a general equality among the races, he harbors some bigotry against Deotians, whom he deems unworthy of Amari's mercy. He does not often question his society or state, but does support his sisters' decisions to branch out into nontraditional fields.